If you have experienced a water emergency in the Maryland area over the last 50 years, or perhaps you're in the water business sector, you might know Rick Roos. If you've met Rick, count yourself lucky. He may have helped you fix a no water problem in your home or business; he might have been in your yard, getting his hands dirty, cracking jokes and trying to make you feel better about your water issue.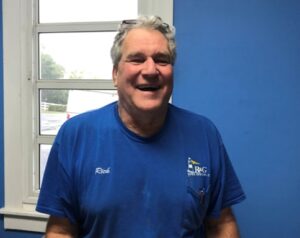 When you've been in this business as long as Rick has, you've had the opportunity to shake a lot of hands, and Rick is someone who loves a good hand shake. Each homeowner he works with becomes instant family, and as such, gets the family treatment.
Rick comes from humble beginnings like most of us. He started out as a helper, slinging tools and learning his trade. After graduating from the University of Baltimore with a business degree, Rick began building 30 years of experience as a water professional. That experience, and his dedication to helping people, is what makes R&G Water Systems so unique and trustworthy.
We are celebrating Ricks accomplishments today and recognizing his drive and love for helping people for over 50 years. Very few business owners make it to this point, and we feel it is because they don't have the amazing customer service that Rick and his wife Georgina have built the business on. He has been there many late nights, working in the dark. He's even saved more than one Thanksgiving dinner get together by restoring water for clients. R&G Water Systems has saved thousands of dollars for clients by properly diagnosing water issues that were misdiagnosed by other companies, and by repairing equipment instead of replacing it.
Congratulations to Rick, his wife Georgina, and the entire staff at R&G Water Systems for their continued efforts to give every single customer the service they deserve.