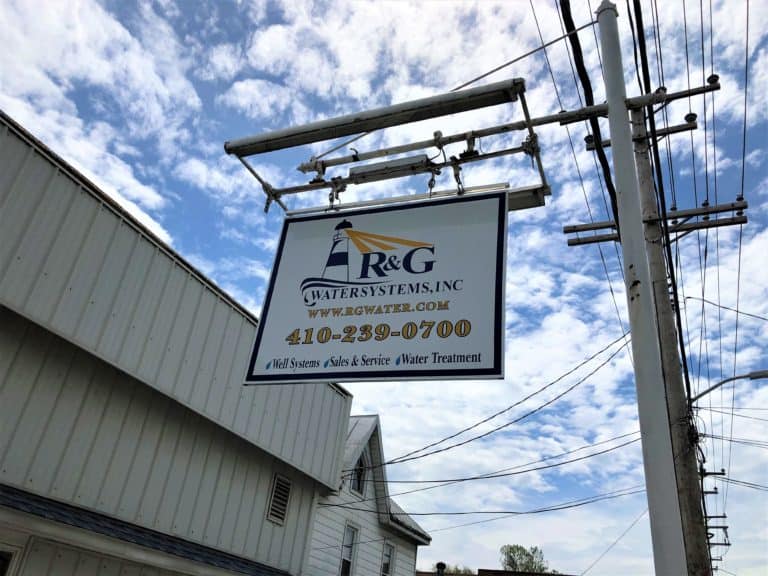 Hampstead's main street is getting a face lift so our sidewalk and street parking are under construction, but don't worry, we are still open.
We are excited to announce that the R & G Water Systems team has moved to a new location in Hampstead, Maryland. Manchester Our old office in Manchester served us well; we made some great memories and served so many customers there, but we are very excited to tell you all about our new space.
Our new office is located a few miles south from the previous location, the hustle and bustle of Main Street is the same, but a few things have changed.
New Look
Our new windowed office front faces Main Street and lets full sunlight into our workspace. We've ungraded our flooring with new hardwood, and now have a more open floor plan with more defined office spaces. Our favorite aspect of the new office location is the branded RG Water sign that faces the busy street; it gives us great visibility and awareness.
Same RG Water
We may have a new location and a new office space, but that's all that we've changed, we are still the same great family owned local company with the kind of personalized service that we've always delivered.
It has been an excited 45 years servicing Carroll County, Baltimore County, and the surrounding areas of Maryland. We want to thank all of our customers for their continued years of support and hope you'll stop by our new office to say hello, have your water tested, or talk to us about our large selection of constant pressure systems and water treatment services.
We are here for you 24 hours a day, don't settle for bad water pressure and don't get stuck without water. Call us today at 410-239-0700 or 443-508-2902 we'll respond quickly and make your water issue our top priority.